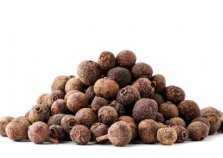 Source: LoopNews:https://jamaica.loopnews.com/content/botanical-roots-why-you-should-eat-pimento
It's that time of the year again when Jamaicans head to their kitchens to cook up a storm. One spice that has been used in many Jamaican delicacies including the Christmas sorrel drink or to add flavor to succulent ham, is pimento.
The pimento comes from the unripe, dried berry of a small tree called Pimento Officinalis or Pimento diocia. It's also known as allspice, Jamaica pepper, myrtle pepper, newspice, pimenta, and clove pepper.
Used in both sweet and savory dishes, pimento is the main ingredient in Jamaican Jerk sauce, used in stews and desserts in the Middle East.
What's more, the pimento is known to have great health benefits and is not just a spice as most people may believe.
Pimento has a long history in folk medicine in the Caribbean and Central American. It is brewed into a tea to relieve colds, ease menstrual cramps, and calm an upset stomach. As a balm, allspice is applied to bruises, sore joints, and muscle aches.
Its eugenol content eases diarrhea, nausea, vomiting, and even constipation. The antioxidants present in pimento also have anti-inflammatory qualities that may ease cramps and aid digestion.
Pimento also has anesthetic and analgesic properties that? helps to relieve pain and relax muscles. It can be used also as a poultice made from the spice or as an essential oil.
Allspice compounds are also known to relieve discomfort in women caused by menopause symptoms because it balances estrogen levels
The ripe berries has also been known to enhance lung function and has been used in rural Jamaica as a remedy to counter breathing disorders.So as you prepare to use your pimento spice in your Christmas dishes, remember it is more than a flavour or preservative. Pimento is good for you.
Some of this content is taken from verywellhealth.com