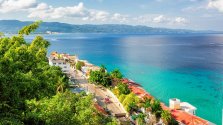 The Lilliput Resource Centre in Montego Bay, St James will come alive on Wednesday as 50 young persons will access valuable tools to help them build a tourism-related business at the Montego Bay Youth in Tourism Readiness Summit.
The summit targets persons aged 18 to 35 and is being implemented under the Young Leaders of the Americas Initiative (YLAI) Professional Fellows Reverse Exchange program. It is supported by the US Embassy in Kingston.

YLAI fellows Gavin Lindsay, CEO of Island Pass Jamaica; Nicolene Witter from the Enablers of Community Advancement Projects and Initiatives (ECAPI) Limited and US Fellowship host, Stephanie M. Jones from Cultural Heritage Alliance for Tourism, Inc are leading the event.

According to Lindsay, the summit aims to engage young persons within the Montego Bay area to discuss feasible and creative tourism product ideas that can be developed as alternative livelihood options.

"When we surveyed the Montego Bay area, it was discovered that several unattached youth were not aware of the many ways in which they could benefit from the tourism industry. With Montego Bay being a tourist hotspot," he said.

It, therefore, became very necessary to host this summit to highlight the diverse opportunities that exist for our young people, Lindsay added.

The summit will cover topics such as tourism product development, tour guiding, identifying support agencies and funding.

The execution of this summit will help to positively channel the creative energies of the young people to legitimately earn from the booming tourism Industry in Montego Bay. This summit will also serve as a social intervention to current policing efforts being undertaken in Montego Bay.

The Montego Bay Youth in Tourism Readiness Summit will showcase a diverse range of presenters including Stephanie M Jones CEO of CHAT South Florida, Andre Burnett CEO, Muse360 Ltd, Shanoy Coombs CEO of InfinityIMC and Mitzy Wright-Price CEO of Angel Tours. Collaborations have also been forged with industry stakeholders such as the Tourism Product development Corporation (TPDCo) The SDC and the Lilliput CDC. The US State Department and Meridian international Is a facilitator of the project.