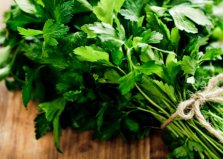 Source: LoopNews-https://jamaica.loopnews.com/content/botanical-roots-why-you-should-eat-parsley
Parsley is a flowering plant that contains healthy amounts of calories, carbohydrates, protein, fibre, fat, vitamin A, Vitamin C, vitamin K, folate and potassium.
These compounds make parsley a great counter disease agent for the body and an immunity booster.
Your bones need vitamins and minerals in varying amounts to remain healthy and strong.
The vitamin K in parsley helps build stronger bones by supporting bone-building cells called osteoblasts. This vitamin also activates proteins that increase bone mineral density.
Parsley also contains compounds that may have anticancer effects. It is particularly rich in flavonoid antioxidants and vitamin C, which reduce oxidative stress in your body and lower your risk of certain cancers, including prostate cancer in men.
Eating this herb also protects your eyes and enhances your vision. It may prevent age-related macular degeneration (AMD), an incurable eye disease and a leading cause of blindness worldwide. The plant also contains beta carotene as well as vitamin A, both of which supports eye health.
The folate in parsley benefits heart health by lowering levels of the amino acid homocysteine, which has been linked to a higher risk of heart disease.
Parsley is easy to use as a flavouring option and is a delicious addition to salads.
Some of this content was taken from www.healthline.com