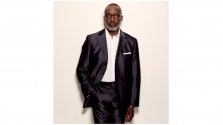 LOOP LIFESTYLE- http://www.loopjamaica.com/content/leroy-logan-whos-inspired-bbcs-small-axe-rolls-deiwght-peters
Jamaican-blooded Englishman Leroy Logan is a former Metropolitan Police superintendent.
This week Logan goes Rolling with Deiwght Peters on the hit Television Jamaica talk show.
Logan's compelling life story was part-inspiration of the Amazon/BBC anthology Small Axe which has a leading 15 nominations in this year's just-announced British Academy of Film and Television Arts' (BAFTA) Television and Craft Awards.
Logan, who was awarded the Member of the Order of the British Empire by Queen Elizabeth in 2001 for his active role in anti-racist policies for policing.But, prior to policing, the 64-year-old Logan traded in an earlier career as a research scientist in north London's Royal Free Hospital.
This, after graduating from the University of East London, to join the ranks of the British police force.
The motivation behind his most unlikely career switch was a result of having witnessed his father's assault and subsequent mischarge by police officers.
A life of passionate advocacy and becoming the founder of the Black Police Association would follow.
With Logan's storied career, rousing Oscar-winning filmmaker Steve McQueen adapted and directed Logan's story to the small screen.
British-Nigerian actor John Boyega of Star Wars fame won a Golden Globe Award in February for his searing portrayal of Logan.
'Discovering the riveting trials and triumphs of Leroy's life made me urgently seek to track him down and book as a guest,' Peters told Loop Lifestyle.
'I was absolutely captivated by his drive to use the policing platform to right systemic wrongs and bring about social equity.
But, there's more. 'His Jamaican connection was an added bonus that I knew our loyal viewers would appreciate,' added the talk show host.
Peters' buzz-worthy interviews with accomplished Jamaicans or descendants have hopscotched the globe from Switzerland to Los Angeles.
Peters advised Loop Lifestyle that noteworthy moments from the Logan interview include his recounting childhood days in Jamaica, and how his heritage strengthened his resolve to become a successful black man.
'I loved how Leroy credited his upbringing with Jamaican cultural principles underscored not only his devotion to hard work, but it ensured he maintained decency and honesty too,' Peters added.
Pop Parade & Glamourzone
This edition of Rolling with Deiwght Peters will also feature the highly anticipated segments: Pop Parade and Glamour Zone.
Peters believes both segments will transport viewers to the world from Hollywood to New York and beyond.
http://www.loopjamaica.com/content/leroy-logan-whos-inspired-bbcs-small-axe-rolls-deiwght-peters