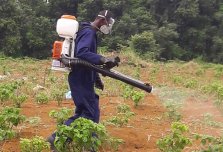 In keeping with its commitment to transform regional trade in agriculture, Robert Kibo Thompson, founder of OUTAONE Exchange, wants Jamaican farmers to start rethinking how they market goods. He wants them to start engaging in forward contracts as a potential safeguard against external shocks.
A forward contract is a private agreement between two parties giving the buyer an obligation to purchase an asset (and the seller an obligation to sell it) at a set price at a future point in time.

Using its web-based global commodities platform dubbed OUTAONE Exchange, where all the produce from the region which it is contracted to trade is uploaded, presents new opportunities for participants to engage in futures trading, as is done on the stock exchange in other jurisdictions.

Thompson used Wednesday's signing of two memoranda of understanding with the Rural Agricultural Development Authority and the All-Island Jamaica Cane Farmers Association to explain how this could break new ground locally, to the benefit of farmers who would no longer be constrained by geographical boundaries.

"A purchaser overseas, a purchaser locally, or purchaser throughout the Caribbean would register on OUTAONE market. They could browse and say, 'Hey, I want this.' Now you have people who are going to purchase in bulk, you have people who are going to purchase in futures. When you speak about futures, you look at how the stock market works. It's all based on futures in terms of commodities we have not looked at in the way we should, and even see farming produce as commodities," he said, likening crops to oil, gold, wheat, and other commodities that can be monetised.

Thompson continued: "Now, if you have a farm and you have a great system in place for delivering top-quality produce, there are institutions which purchase in bulk for even smaller distributors that would pay for futures stocks at a particular price. So for argument sake, potato gonna be at $80 a pound, but somewhere along the line, somebody says they're going to give you $85. So you have a contract that is guaranteeing you a (stable) price, whether in high season or low season.
"