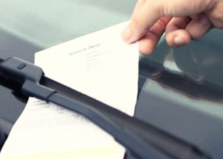 Jamaicans who run afoul of the new road traffic law and who have outstanding traffic tickets could soon find themselves detained at the island's airports when they try to enter or leave the country.
The warning has come from Transport and Mining Minister, Robert Montague, who was making his contribution to the 2019-2020 Sectoral Debate in the House of Representatives on Tuesday.

Montague said the Government will be relying increasingly on technology to nab persons who flout the traffic laws.

"I am pleased to inform you that electronic traffic enforcement is coming. Running red lights, speeding, no seat belts, improper lane usage and accidents will be caught on traffic cameras," Montague told the House.

"In addition, licence plate reading tied to our database will see tickets (being) issued electronically, and if not paid, (motorists) will not be able to renew the registration (for their vehicles)," added Montague.

"We will soon begin a discussion with PICA (Passport, Immigration and Citizenship Agency), so that we will be able to hold on to offenders at the airports," the minister warned.

He said: "We are leveraging technology to assist in road safety. All of this should have been done already, but these new things take time, and the process of approval is long and drawn out, but it is what it is. This minister will take the time and the criticism, but will do it right."

Meanwhile, Montague said some members of the new Island Traffic Authority (ITA) board, the entity that will take the lead role in the implementation of the new Road Traffic Act, have already been appointed. They include retired examiner, Garnet HoSang, transport operator, Henrietta James, and representatives from the police and insurance agencies, among others.

"I will provide further update on this as the board is just getting ready, and they must recruit a CEO in fast order. I will come back with an update soon," the minister promised.

And, as part of measures to improve safety on the nation's roads, Montague said the ITA, along with the police, will be enforcing the provision that trucks be fitted with crash bars at the back and right sides. He said this is to prevent small vehicles from running under trucks.

Also, as of September 1 this year, the traffic authorities will be encouraging motorists to drive with their lights on during the days. The transport minister said the practice has proven to be able to reduce traffic crashes by between 12 and 20 per cent in other jurisdictions.

He said a voluntary pilot is to run for a year, but an assessment will be made after six months.