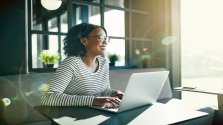 Companies Office of Jamaica (COJ) and the Cabinet Office of Jamaica have partnered to launch an Electronic Version to the Business Registration Form (EBRF).
EBRF was implemented under the Public Sector Transformation and Modernisation Division of the Cabinet of Jamaica with funding from the Inter-American Development Bank.

Its launch will eliminate the need for entrepreneurs to visit multiple government agencies including Tax Administration Jamaica, HEART Trust/NTA, the Ministry of Labour and Social Security and the National Housing Trust in registering a business.

"The electronic form is an innovation that demonstrates to the world that Jamaica is open for business and indicates that the Government of Jamaica and the Companies Office are willing and committed to utilizing available technology to improve the country's investment environment," Chief Executive Officer of the COJ, Judith Ramlogan said during the launch on Wednesday.

EBRF will allow users to register their business name or company name from anywhere in the world.

After registering the business, the entrepreneur is reassured that all other agencies which are regulating business startups will be included in the process.

At present, Jamaica is ranked 6th on the World Bank's Ease of Starting Business Index 2018. Ramlogan believes that the implementation of the EBRF will further improve the country's ranking.

"This is significant as it is a testament that the government takes business seriously and is committed to making continuous improvements to allow for greater efficiency.

"Ranked at number six means that Jamaica has been outpacing several countries that are more developed and have access to greater resources. That's something we all can be proud of," Ramlogan said.

EBRF is an improvement of the COJ's Super Form which created a one-stop-shop for entrepreneurs registering a business. The form was implemented in 2014 and to date has facilitated the registration of approximately 50,000 businesses and 14,000 companies. EBRF is expected to create greater efficiencies while bringing more entrepreneurs into the formal system.

"A frequent complaint by customers is the limited space and parking at the COJ's offices. With the EBRF, the COJ is hoping to provide relief as the platform will serve as a point of engagement for customers. Consider an extension of the agency's opening hours and the COJ setting up office wherever and whenever you have the time," Ramlogan said.

For individuals without access to a computer, the COJ will set up kiosks at TAJ offices, COJ offices and the Jamaica Business Development Corporation (JBDC) offices. The rollout will start with TAJ's Constant Spring and Montego Bay office.

The COJ with support from the Ministry of Finance will enter into the next phase of the modernization process with the introduction of other electronic forms such as the annual return and change forms.