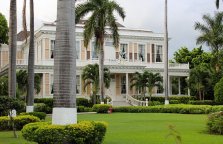 Source: planetware-https://www.planetware.com/tourist-attractions/jamaica-jam.htm
Known as the "birthplace of reggae," Jamaica offers travelers a treasure trove of natural jewels and a colorful African vibe. Golden beaches; lush, green mountains; turquoise seas; coral reefs; rainforests; and rivers are just some of the island's enviable assets.
Nature lovers will find plenty of things to do in Jamaica. You can hike and bird-watch in the jungle, or dive and snorkel along the fringing reefs. Jamaica is also renowned for its many historic plantations, where you can sample tropical fruits and tour the grand great houses.
Lively Montego Bay is one of the most popular resort towns. Ocho Rios is the island's major port of call for cruise ships, and Negril is famous for its long and lazy beach lined with clear waters and coconut palms. Ecotourists love peaceful Port Antonio, thanks to its proximity to the spectacular Blue Mountains.
And, of course, there's reggae. In Kingston, Jamaica's edgy capital, you can tour reggae legend Bob Marley's former home and explore the city's museums and historic sites.
Jam-packed with diverse tourist attractions, no wonder Jamaica is a favorite Caribbean getaway. Learn more about the best places to visit with our list of the top attractions in Jamaica.
1. Negril Beach & the Negril Cliffs
Negril Beach
Negril Beach, also known as Seven Mile Beach, is one of Jamaica's most beautiful stretches of white sand and aqua sea. Backed by the famous Negril Cliffs, it's also one of the best beaches in the Caribbean.
Although it's actually closer to four miles long, the beach extends from Bloody Bay to Long Bay. Tucked within groves of coconut palms, resorts fringe the shore here, from large all-inclusive resorts to smaller boutique properties.
Water sports abound, and snorkelers will find schools of fish swimming in the clear waters. But be prepared for persistent hawkers prowling the beach.
South of the beach, the Negril Cliffs rise above the coral-fringed coast and provide a popular perch for sunset views. Jumping off these cliffs is also one of the top things to do in Negril.
Some of Negril's most luxurious resorts also lie along the cliffs, including The Caves and The Cliff Hotel.
2. Rafting the Martha Brae River
Rafting the Martha Brae River
Rafting the Martha Brae is one of the most popular things to do in Jamaica - especially for couples. At Martha Brae Rafter's Village, you can glide down a picturesque stretch of the river on bamboo rafts poled by local guides.
This relaxing trip is a great way to soak up some of the tropical scenery, and you can even stop at local vendors along the way to purchase souvenirs or refreshments. Best of all, some of the guides will entertain you during the trip, singing reggae songs or sharing interesting information about the flora and fauna.
This is a popular day trip from Montego Bay (about 37 kilometers away) and Ocho Rios (abut 70 kilometers away). You can also do this from Negril, but it takes about two hours one way to reach the Martha Brae Rafting Village, where the tours launch.
3. Dunn's River Falls
Dunn's River Falls
Encompassing 180 meters of gently terraced waterfalls, Dunn's River Falls is one of the top attractions in Ocho Rios. These picturesque falls tumble over rocks and limestone ledges into the sea.
You can climb the natural tiers to the top of the falls with the aid of a guide and cool off in the refreshing pools at the base. It's a good idea to wear water shoes and clothing that you don't mind getting wet. Also, try to plan your visit around the cruise ship crowds - this is one of Jamaica's most famous waterfalls, and it's a popular place to visit for tourists.
For a fun full-day outing, try the Dunn's River Falls and Bob Marley's Nine Mile tour. This tour stops by the village of Nine Mile, birthplace of Bob Marley, and then heads over to the Dunn's River Falls for a guided hike up to the falls and a slide or swim in the natural pools. Want to extend your adventure? Add on an optional Mystic Lagoon night boat ride and dinner. Hotel pickup and drop-off, entrance fees, and a guide are included.
Alternatively, take a Jamaica Catamaran Cruise to Dunn's River Falls from Ocho Rios or Montego Bay. Snorkel over coral reefs, enjoy an ocean cruise, and relax and play in the water at the falls.
4. Blue and John Crow Mountains National Park
Blue and John Crow Mountains National Park

In 2015, the spectacular Blue and John Crow Mountains National Park was inscribed on the list of UNESCO World Heritage Sites for its rich natural and cultural heritage.
Once a refuge for former slaves and the indigenous Taino, who fled here to escape slavery, this unspoiled preserve offers breathtaking scenery. Within its borders, you can explore jungle-clad mountains, waterfalls, lush rain forests, and coffee plantations.
The wildlife is also impressive. More than 800 species of endemic plants, 200 species of birds, and the world's second largest butterfly live within the park.
Getting around the park can be an adventure in itself. The roads and tracks are rough - especially after rain - so 4WD vehicles and/or experienced guides are highly recommended.
A highlight of a visit here is the hike (or mule ride) up Jamaica's highest peak, 2,256-meter-high Blue Mountain Peak. This two-day trip offers thrilling views, and on a clear day, you can see all the way to Cuba. Most sightseeing tours depart from Kingston.
5. Port Antonio
Port Antonio
Set between mountains and a double harbor, Port Antonio exudes the relaxed charm of a sleepy fishing village. Once a center for banana export, the area is distinctly less commercial than the other resort towns.
Popular things to do in Port Antonio include hiking jungle trails, rafting the Rio Grande, taking a tour to Reach Falls, and snorkeling and diving the coral reefs. A favorite swimming spot is the beautiful 60-meter-deep Blue Lagoon, fed by freshwater springs.
Other highlights of the area include the 18th-century British stronghold of Fort George and beautiful Frenchman's Cove, where a fish-filled river flows into the sea.
Port Antonio beaches are a wonderful mix of white sand, shallow waters, and lush outcroppings of land. But if you prefer to take a dip in freshwater, the nearby Daniel's River plunges through a gorge of natural rock in a series of cascades and pools known as Somerset Falls.
Set between Port Antonio's two harbors and reached by ferry, Navy Island was once owned by movie swashbuckler Errol Flynn. Today, the island is a favorite for picnics and day trips.
Jamaica's spicy "jerk-style" of cooking originated in the region and some of the best can be found at Boston Beach east of Port Antonio.
6. Doctor's Cave Beach, Montego Bay
Doctor's Cave Beach, Montego Bay
One of the best beaches in Montego Bay, Doctor's Cave Beach is an alluring strip of white sand fringed by clear waters.
This famous beach actually helped shape the fate of this popular tourist town. In the early 1920s, a famous British osteopath declared that the water had curative powers after swimming here, a claim that began to lure visitors from around the world. Hotels sprouted up, and the area became a thriving tourist destination.
The namesake cave was destroyed by a hurricane in 1932, but the beach is as popular as ever - hanging out here is one of the top things to do in Montego Bay, and it's often crowded with cruise ship passengers.
Change rooms, restaurants, and shops are all available nearby, and you can rent beach equipment here, too. Note that there's a fee to access the beach.
7. Blue Hole, Ocho Rios
Blue Hole, Ocho Rios
High in the rain-forest-cloaked mountains outside Ocho Rios, the Blue Hole is a series of picturesque waterholes fed by gushing cascades. It's also called Island Gully Falls or the Irie Blue Hole.
Guides lead you around the area, where you can explore the falls and jump off cliffs into the refreshing pools below. The higher up the falls you climb, the less people you will probably encounter, but negotiating the trail can be tricky. The adventure involves clambering over slippery rocks, so appropriate water shoes are recommended. Visiting these beautiful falls is one of the most popular things to do in Ocho Rios.
8. Rio Grande River
A bamboo raft on the Rio Grande River
Are you looking for a stress detox? Sign up for a rafting trip down the beautiful Rio Grande River. Few activities could be more relaxing than floating gently down a lush jungle river, poled by an expert guide. This stretch of water also tends to be less crowded than the Martha Brae.
You can purchase ice-cold refreshments to take with you, then sit back and relax. Tropical rain forest drifts by as your friendly guide nudges you along the crystal-clear waters, sharing stories about the area while negotiating the gentle rapids with ease.
Rafting here dates back to around 1911, when banana farmers in the Rio Grande Valley used to transport their bananas along the river, and you'll learn about this history on your tour. Along the way, you'll stop for a hearty lunch at a local restaurant.
The tour takes about two and a half hours.
9. Black River Safari Boat Tour and YS Falls
YS Falls

Fringed with mangroves, the Black River is the longest in Jamaica, and you can tour this tranquil river on a guided boat tour. Nature lovers will be in heaven. Crocodiles and more than 100 species of birds, including herons and snowy egrets, are among the critters that make their home here, and you can learn all about the area's ecology and history during the tour.
A short drive away and often combined with the Black River for tours, the beautiful YS Falls are Jamaica's largest cascades. If you're looking for things to do in Jamaica with kids, this is a top choice. Some of the seven waterfalls flow into peaceful natural pools, which are lovely for a dip on a hot day. One of the pools is suitable for children as well.
You can also play Tarzan on the rope swing and plunge into a wading pool below fed by natural springs. Ziplining and river tubing are also available.
10. Rose Hall Great House, Montego Bay
Rose Hall Great House, Montego Bay | Loren Sztajer / photo modified
Built in 1770, Rose Hall is a restored plantation house with beautiful ocean views. Legendary Annie Palmer (the White Witch) ruled here with cruelty, and met a violent death. Today, her home is adorned with period furniture.
You can choose a day tour, but if you're a fan of ghost stories, opt for the spooky evening tour by candlelight. Guides dressed in character share plenty of spine-chilling tales of ghost sightings, and they'll definitely keep you on your toes. Who knows, you might even see the White Witch herself!
11. Reach Falls
Reach Falls


A hidden gem, Reach Falls are among Jamaica's prettiest and most peaceful falls. They lie tucked in the Montane Forest of the John Crow Mountain Range, near Port Antonio. A gentle hike through tropical rain forest takes you to the top of the falls where a lifeguard patrols.
You can stand under the streaming cascades, explore underwater caves, and swim in the fern-fringed waters surrounded by rainforest - more than 20 different species of ferns grow in this emerald forest. Keep an eye out, too, for some of the many species of birds here, including yellow-billed parrots. It's also a good idea to bring water shoes.
12. Rainforest Adventures Mystic Mountain, Ocho Rios


Rainforest Adventures Mystic Mountain, Ocho Rios | Chris Short / photo modified
Ready for an adrenaline fix? Head to Rainforest Adventures Mystic Mountain in Ocho Rios. Here, you can zoom down the mountain on Bobsled Jamaica, a single-person roller coaster ride through the forest, or glide through the treetops on ziplines. You can also enjoy panoramic views of the town and sea on the Sky Explorer, a chairlift ascending the mountain.
Other attractions here include guided nature walks, butterfly and hummingbird gardens, a ropes course, rides, an infinity pool and waterslide, and a climbing wall.
13. Mayfield Falls
Mayfield Falls
Nestled in the mountains, about an hour's drive from Negril through rainforest villages, Mayfield Falls & Mineral Springs is a haven for nature lovers. Here, you'll find two beautiful waterfalls; 21 natural pools; and a profusion of ferns, tropical flowers, and other rainforest flora. Butterflies and birds flit through the lush foliage, and thatched riverside gazebos beckon for pit stops.
You can choose between a guided hike along the river or you can wade through the cool waters, clambering over slick boulders, jumping off cliffs, and relaxing under the cascades. Be sure to bring a camera, and wear water shoes and swimwear.
14. Falmouth
Falmouth
Surrounded by sugar estates and cattle land, Falmouth is one of the Caribbean's best-preserved Georgian towns. Once a leading port, the town offers excellent examples of 19th-century Georgian architecture, including a faithful restoration of the courthouse.
Greenwood Great House is a major tourist attraction in the area. Built in 1790 by Richard Barrett, a relative of poet Elizabeth Barrett Browning, the Great House is now a museum with period furniture and a rare collection of musical instruments and Wedgwood china.
Other popular things to do in Falmouth include exploring Good Hope Plantation, an old-established coconut and sugar plantation built in 1755, and basking on Red Stripe and Burwood Beach.
East of Falmouth is the Luminous Lagoon, named for its marine phosphorescence.
15. Zipline Adventure Tours
Zipline Adventure Tours | Chris Short / photo modified
Outdoor enthusiasts and adventurers can test their skills kayaking and ziplining as they explore the Great River. Two-hour guided tours take guests kayaking through rolling rapids and calm waters, or ziplining above the river for a little adrenaline-infused adventure. A tour guide gives a safety and equipment briefing and offers insight into the wildlife and vegetation along the river.

The Jamaica Zipline and Kayak Adventure Tour, which departs from hotels in Negril and Montego Bay, includes hotel pickup and drop-off, lunch, equipment, a guide, and basic instruction. Participants must be at least six years of age.

16. Kingston
Kingston | KatieThebeau / photo modified

At the foot of the Blue Mountains, Jamaica's busy capital city offers a cosmopolitan contrast to the island's relaxed pace. Gritty and rough around the edges, Kingston can be intimidating, but you can experience some of the top things to do in Kingston on organized tours.
One of the most popular places to visit is the Bob Marley Museum, at the reggae superstar's former home. Reggae fans can also visit the Trench Town Culture Yard Museum in the ghetto where reggae music was born.
Other favorite attractions in Kingston include historic mansions, like Devon House, as well as museums such as the excellent National Gallery and the Natural History Museum.
Music concerts are often staged at Emancipation Park, a palm-studded green space in the middle of the city, and National Heroes Park features statues of leading players of Jamaican history and independence.
At the tip of the peninsula surrounding Kingston Harbor lies the community of Port Royal, the focus of British fortification in the late 17th century.