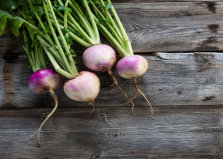 Source: LoopNews-https://jamaica.loopnews.com/content/botanical-roots-why-you-should-eat-turnip#:~:text=Turnips%20are%20very%20low%20in,%2C%20vitamin%20C%2C%20and%20manganese.&text=Turnips%20are%20also%20known%20to,for%20persons%20suffering%20from%20diabetes.
Both its roots and leaves are safe to eat and are praised for their health-promoting effects.
This week, we look at the health benefits of turnip.
Turnips are very low in saturated fat and cholesterol. They are a good source of vitamin B6, folate, calcium, potassium, and copper. They are a good source of dietary fibre, vitamin C, and manganese.
The root vegetable contains several beneficial plant compounds associated with cancer-fighting properties. For instance, its high vitamin C content helps prevent the growth and spread of cancer cells, turnips are rich in compounds that also provide an antioxidant activity which stuns the spread of the disease
Turnips are also known to manage blood sugar levels and is very good food for persons suffering from diabetes. It is known to lower the glucose production level of the liver and reduce the absorption of carbohydrates.
Many chronic conditions, such as heart disease and high blood pressure are associated with inflammation and turnips are known to have anti-inflammatory compounds which reduce the malady significantly.
Consuming turnips may also assist the body in its fight against harmful bacteria which can lead to a variety of diseases. Eating the leaves of turnips also help to boost the body's immune system.
You may consume turnips by adding them to your soup, adding cubes of it to your potato salad, slicing them thinly after baking to make turnip chips and sautéing the turnips and the greens to make a healthy salad.
Don't resist returning to your botanical roots foods provided by nature are always good for you.