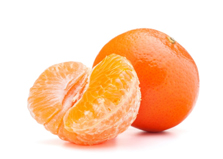 Source: LoopNews-https://jamaica.loopnews.com/content/botanical-roots-why-you-should-eat-tangerine
Also known as mandarin oranges, tangerines are a refreshing citrus fruit packed with many nutritious compounds. They contribute to the health of all parts of the body including cell health, the bones and heart.
Tangerines are comparable to oranges, but pack even more vitamin A and iron, and slightly less vitamin C. This is a fruit that can help the body ward off the effects of the deadly coronavirus, which is taking tens of thousands of lives around the globe.
Tangerines are loaded with compounds called flavonoids, which boast certain anticancer properties. The flavonoids in tangerines have been shown to prevent the growth of cancerous cells and tumors. Flavonoids also boost improved blood flow in the coronary arteries, prevent arteries from forming blood clots and eliminate bad cholesterol.
The Vitamin C present in tangerines is a great help in the healing of wounds and holds together tendons, ligaments, bones and blood vessels. Vitamin C also aids absorption of the iron in foods.
The fruit also contains nutrients linked to immune function, vision, reproductive health and communication between cells.
Consuming tangerines also helps form and maintain the health of new cells in the body by building DNA and RNA. It is also a very important food to eat during periods of rapid growth, such as pregnancy and infancy.
The tangerine is also loaded with potassium which is necessary for proper functioning of the kidneys, muscles, nerves, heart and digestive system. Eating tangerines may also prevent high blood pressure and lower the risk of stroke.
So, as we try our best to heed the warnings about social distancing, sanitising and staying indoors, we can do our part by eating healthy foods that may give us a better chance at building our immune systems.