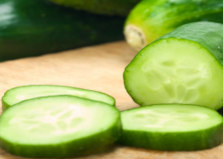 Source: LoopNews-https://jamaica.loopnews.com/content/botanical-roots-why-you-should-eat-cucumber
Even though most people use the cucumber in vegetable salads, it is actually a fruit.
Cucumbers are of the same family as watermelon and squash and are highly nutritious and tasty delicacies.
The cucumber is popular in most parts of the world and is widely used in Jamaica and the Caribbean.
When blended into a juice and mixed with lime and ginger, it makes a refreshing drink which is great for dehydration.
Cucumbers are low in calories and have high water and soluble fibre content, making them a good source in the promotion of hydration and weight loss.
The fruit is used to counter the effects of sunburn and there is ongoing research to confirm that it is rich in a compound that may help in the fight against cancer. The fruit contains a compound known as lignan which is being used to counter the effects of heart disease.
Cucumber is also known to contain healthy portions of Vitamin K, which is essential in promoting bone health.
For years, beauticians have used cucumber for the promotion of skin health and it is not uncommon to see persons using a slice of the fruit over their eyes while basking in the sun. It is also widely used in lotions and skin creams.
Studies have shown that cucumbers may also aid in the lowering of blood sugar levels, however additional research is needed.