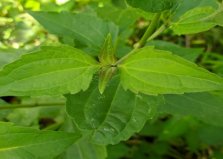 Source: LoopNews: https://jamaica.loopnews.com/content/botanical-roots-why-you-should-consume-jack-bush
Older Jamaicans are well versed in the uses of a versatile shrub known as Jack in the Bush
The medicinal wonder plant, scientifically known as Eupatorium Odoratum, grow wild all over Jamaica and other parts of the Caribbean. It is also known as Christmas bush, siam weed, bitter bush and agrimony depending on the island.
Jack in the Bush reportedly contains Alpha-pinene properties that help to eliminate infections and promote healing.
A tea made from the leaves is said to be an excellent remedy for flu, coughs, common colds, asthma, sinusitis as well as fever.
Persons who suffer from diabetes also reportedly stand to benefit from the tea made from the flower of the Jack in the Bush.
It is also said to be good for inflammation and to treat skin conditions such as eczema. The tea has also been used to ease the effects of measles and chicken pox.
What's more, a mixture of the shoots of the plant and coconut milk is used to help treat children who suffer from bronchitis.
At this time, when the COVID-19 pandemic has the world reeling, consuming this bush may well help boost the immune system and give you a fighting chance against the virus which has infected millions across the globe and taken too many lives.
These days it may be a good thing to revert to the remedies employed by our forebears to ease maladies and cut high health expenses.