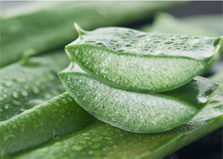 Source: LoopNews-https://jamaica.loopnews.com/content/botanical-roots-why-you-should-consume-aloe-vera
In these turbulent times of COVID-19, many persons are trying to boost their immune systems, cleanse their bodies and generally consume healthier foods which can give them a fighting chance to ward off not just the deadly coronavirus but any other health condition that can slow the body down.
One well known food provided by nature's bounty is the aloe vera plant, commonly known as 'single bible' or 'sinkle bible' in Jamaica.
That the aloe vera is a "wonder plant" is not in doubt, as it has been used for centuries to cure a variety of ailments. The aloe is a genus that contains more than 500 species of flowering succulent plants.
The aloe plant is known to expel mucus from the body and has been used as a home remedy for colds and influenza for centuries. The gel and juice that is contained within the leaves have a great effect in fighting against the agents that assist in forming mucus in the throat, intestines, stomach and other sections of the anatomy.
It is even known to effectively cure conjunctivitis, known as 'pink eye'. Just one drop in each eye has been used to cure the condition in just 24 hours.
A study published in General Dentistry reported that aloe vera in tooth gels is as effective as toothpaste in fighting cavities.
The researchers compared the germ-fighting ability of an aloe vera tooth gel with two popular toothpastes. They found that the gel was just as good and, in some cases, even better than the commercial toothpastes at controlling cavity-causing oral bacteria.
The authors explained that aloe latex contains anthraquinones, compounds that actively heal and reduce pain through natural anti-inflammatory effects.
The plant is also known to be very effective in easing the debilitating effects of constipation. The gel and juice starts to repel the substances that may cause blockages and makes for easier passing of stool that was previously proving to be a tantamount task for those who suffer from the condition.
The plant is also a very good home remedy for cuts and burns and has been used to treat those injuries in Africa, Asia, North, South and Central America and of course the Caribbean region for years.
The aloe vera plant extract has also been used in a variety of skin, hair and other cosmetic items and is widely sought after by the manufacturers of these products.
Most recently, with the shortage of hand sanitisers due to the panic buying associated with the coronavirus, the aloe vera has been touted as an effective component of homemade hand sanitisers when mixed with alcohol and citrus juice.
The aloe vera has always been touted as a wonder plant and it can do no harm to stick to your botanical roots and cleanse the body from inside out with the 'single bible'.
After all, the Bible says, what is bitter to the mouth is sweet to the belly.