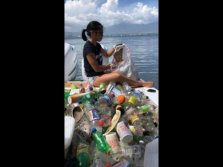 The trash tag challenge is a simple one: get participants to help protect the environment. All participants have to do is take a picture of an area that has accumulated a lot of trash, and clean up the area and then take another picture displaying the transformation.Vandana Mangroo is hosting a Trinbagonian version of trash tag challenge. She was attracted to the idea because according to her, its a challenge that anyone can do.
It doesn't require a big group of people, or a network, it's not a part of an organised cleaup, which is what we're accustomed to. One or two people can come together anywere they see trash in their community. It really meant to show people that individually they can make a defference.
We also want people to feel as though they're taking charge of their country, we're not saying that this is the only solution, we're just trying to demonstrate that we're responsible for our own actions as well."
Although it's a challenge, every participant will get a prize. Mangroo stated that the prizes are intened to be more of a thank you token for participation.
We want them to get involved and take charge of their own surroundings and environment,"
Article by: Georgia Mckenzie