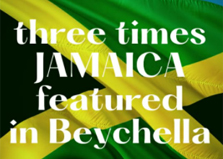 Source: Dig Jamaica-http://digjamaica.com/m/blog/three-times-jamaica-featured-in-beychella/
It was a historic set from the first black woman to headline the Coachella music festival. Beyonce didn't just make history; she paid homage to it through an unmatchable performance. The American entertainer turned the April 2018 staging of Coachella into #Beychella, schooling everyone on how to make a comeback after a pregnancy, how to dominate a set featuring over 100 musicians, dancers, family members and the infamous Destiny's Child. Effortlessly taking her audience through a catalog of hit after hit after hit, she danced, spoke, sang like nobody else can … and in her wake, left them all hailing her as the Greatest Of All Time.
But her set was not just saturated with tributes to black icons like freedom fighter Malcolm X and jazz crooner Nina Simone. It also featured our very own likkle but tallawah island, Jamaica, through at least three songs.
Singer Beyonce and husband Jay Z spotted in Jamaica
Jamaican rapper Sean Paul
1. Way to bring back 'Baby Boy'!
It started with Baby Boy. Remember this hit song that was released on Beyonce's debut solo studio album, Dangerously in Love, in 2003? The song featured Jamaican rapper Sean Paul, and topped the US Billboard Hot 100 charts for nine consecutive weeks. When Bey decided to drop a little bit of that song on her Beychella set, all Jamaicans were already feeling the love. But it was about to get a whole lot more personal.
2. Dawn Penn's 'You Don't Love Me (No, No, No)'
Beyoncé could not have paid a bigger compliment to Jamaica than when she dropped the legendary intro chords to Dawn Penn's reggae tune, You Don't Love Me (No, No, No). The most popular version of the song, which has been hailed as a timeless reggae anthem, was released by Penn as a single on February 1994. However, that recording was based on Penn's earlier recording in 1967. The 1994 version peaked at number three on the UK Singles Chart. Bey's cover of the song was complimented by some legit dancehall wining as well. But then, she didn't stop there. She took things up a notch …
3. Sampling Sister Nancy's 'Bam Bam'
And it was a bam bam indeed! Because if there was any doubt that this little segment was placing Jamaica in the spotlight, the sampling of sounds from Sister Nancy's Bam Bam put them all to rest. Sister Nancy's Bam Bam, released in 1982, has been sampled by Jay Z for his 4:44 track, Bam, and on Kanye West's The Life of Pablo cut Famous. Three in a row made it clear that Bey was sending out some love to this irie little island, and, we're sure this inspired a reciprocation of more love for her on this side of the globe.