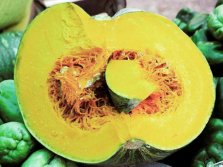 Source: The Gleaner-https://jamaica-gleaner.com/article/food/20141002/healthy-side-pumpkin-0
Pumpkin - cooked, boiled, drained, without salt - is one of the best gifts you can ever give your body. It has many nutritional values, numerous health benefits, and can be eaten boiled, roasted or even raw.
President of the Jamaica Professionals in Nutrition and Dietectics, Kirk Bolton, shares the many health benefits of this widely grown vegetable. It is rich in vital antioxidants, and vitamins. While this humble backyard vegetable is less in calories, it contains vitamin A, and flavonoid polyphenolic antioxidants such as leutin, xanthin, and carotenes in abundance.
Health benefits of pumpkin
It contains no saturated fats or cholesterol
It is rich in dietary fibre, anti-oxidants, minerals, vitamins.
It is low in energy (26 kilo calories per 100g of raw pumpkin)
It is used in cholesterol-controlling and weight-reduction programmes.
It is a storehouse of many anti-oxidant vitamins such as vitamin A, vitamin C and vitamin E.
It has the highest levels of vitamin A, providing about 246 per cent of recommended daily allowance. Vitamin A is a powerful natural antioxidant and is required by the body for maintaining the integrity of skin and mucus membranes. It is also an essential vitamin for good eyesight. Research studies suggest that natural foods rich in vitamin A help the body protect against lung and oral cavity cancers. Carotenes convert into vitamin A inside the body.
It is a good source of the B-complex group of vitamins like folates, niacin,
Vitamin B-6 (pyridoxine), thiamin and pantothenic acid.
It is also a rich source of minerals like copper, calcium, potassium and phosphorus.
Pumpkin Seed
The pumpkin seeds are an excellent source of dietary fibre and mono-unsaturated fatty acids, which are good for heart health. In addition, the seeds are concentrated sources of protein, minerals and health-benefiting vitamins. For instance, 100g of pumpkin seeds provide 559 calories, 30g of protein, 110 per cent RDA of iron, 4,987mg of niacin (31 per cent RDA), selenium (17 per cent of RDA), zinc (71 per cent), but no cholesterol. Further, the seeds are an excellent source of the health-promoting amino acid tryptophan. Tryptophan is converted to GABA in the brain.
Preparing pumpkin
Pumpkin can be used in a variety of delicious recipes, either baked, stew, or fried. However, it is eaten best after steam-cooking in order to get maximum nutrients.
Treat your diet with the taste of some rich pumpkin soup this evening. Bolton shares an excellent way that you can get the full benefit of pumpkin.
Try shredding pumpkin the way you would shred carrot with cabbage and you would get the full value of pumpkin.
You may cook the pumpkin either with or without the skin. The fibre content is higher with the skin. It is a main vegetable in our traditional soups which helps to add colour and flavour to your pot.
Have your pumpkin in your salads or as a part of the vegetables used to make your favourite stews.
Pumpkin is very versatile and low in energy (calories) so it's used by persons who want to add more bulk to their systems and need added roughage.