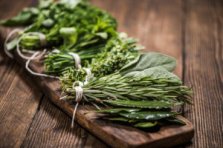 Source: HealthBeat-https://www.flushinghospital.org/newsletter/the-health-benefits-of-rosemary/
Rosemary is a fragrant herb native to the Mediterranean region. It has a warm, bitter taste and it provides a nice flavor and aroma to many foods. In addition, rosemary can be used in tea or as an essential oil or liquid extract.
Rosemary is not only known for its taste and smell; it is also renowned for the many health benefits it possesses. A good source of iron, calcium and vitamins A, C, and B-6, rosemary has been used for its medicinal purposes for centuries.
Some of the many potential health benefits of rosemary include:
Rosemary is a rich source of antioxidants and anti-inflammatory compounds, which are thought to help boost the immune system and improve blood circulation.
Rosemary is considered a cognitive stimulant and can help improve memory performance and quality. It is also known to boost alertness, intelligence, and focus.
The aroma of rosemary has been linked to improving mood, clearing the mind, and relieving stress in those with chronic anxiety or stress hormone imbalances.
The oil of rosemary has been known to promote hair growth prevent baldness, slow graying, and treat dandruff and dry scalp.
Rosemary is often used for digestion problems, including heartburn, intestinal gas, liver and gallbladder complaints, and loss of appetite.
Rosemary is specifically powerful against bacterial infections. It is linked to preventing staph infections.
The nutrients in rosemary help protect skin cells from damage often caused by the sun and free radicals.
Rosemary is safe when taken in low doses, but if consumed in very large doses if can lead to serious side effects, such as vomiting, spasms, or even pulmonary edema. Please consult with your doctor before incorporating rosemary into your diet.