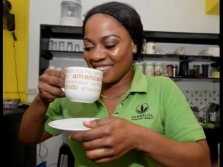 Eating healthily does not mean you have to follow a bland and strict routine. In fact, substituting your usual unhealthy bites with flavoursome shakes, smoothies, natural juices and teas is one way to go. This is the aim of Healthy Way Nutrition Club, while, of course, tantalising taste buds with the wholesome and luscious treats.
The seven-year-old intimate cool-out hub is owned by Veronica Scarlett, who made her debut into the culinary field several years ago as a chef. But longing to adequately care for her children compelled her to take a leap of faith and set up shop, after returning from a cooking job in The Bahamas.

Her nourishment haven is nestled on 25 Annette Crescent in Kingston. Scarlett told Food that she is always willing to supply foodies with exciting drinks that will help one get through the day. Whether you're seeking a morning-time, afternoon or early-evening pleasure, she guarantees that you won't be disappointed.

"It's a very peaceful and quiet environment. The offerings are amazing and you can go as far with them to make them attractive. Although they are easy for me to make, you'll get the greater benefit. For example, after working out, you can have a nutritious shake in place of a meal, and that's better for you," Scarlett said.

TRY IT ALL Surely, you don't want to miss out on the frenzy at the Healthy Way Nutrition Club. The unforgettable and scintillating aroma of fresh fruits and vegetables floating around in the atmosphere as Scarlett whips up your selection is enough to satisfy your palate. However, the exotic experience gets better with just one taste of the filling substances.

"You have to try the power shake that have different flavours, which include cookies and cream, chocolate, banana and oats. It keeps you full up to four hours, but that depends on your metabolism. So, if you burn fat easily, it will probably keep you for three hours," she explained.

That's not all. The wild berry, with its zesty sensation, and chocolate shakes, with a savoury cocoa taste, are other appetising options you can devour. The protein meal, too, is a must-have. And for a much lighter yet powerful thrill, the green tea should be first on your list.

Scarlett's legendary green juice is also a must have. It's made with fresh vegetables: kale, spinach, watercress, cucumber, lettuce, celery and parsley, and perfected with ginger. This provides a number of well-needed vitamins that will keep your body performing at an optimal level.

But don't be surprised if you're mesmerised by an aloe shot. Remember, having a healthy diet is a lifestyle, so start with these tempting delights.

Visit its Instagram page @healthywayNutrionClub for more insight on the delicious options, or contact Veronica Scarlett at 876-420-0406.