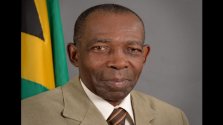 There is a major change in the way farm roads are to be repaired, which is intended to increase transparency, JC Hutchinson, the Minister without Portfolio in the Ministry of Industry, Commerce, Agriculture and Fisheries, has announced.
The change is to see the Rural Agricultural Development Authority (RADA) being the sole agency to decide which farm roads are to be repaired.

Hutchinson made the announcement on Tuesday during his contribution to the 2019-2020 Sectoral Debate in the House of Representatives.

The Member of Parliament (MP) for North West St Elizabeth said, among other things, MPs have in the past submitted roads for repairs under the programme which were not farm roads, to the inconvenience of farmers. Hutchinson even dared his colleagues in the House to say this was not true.

The new directive is to also apply to councillors and farmers' organisations. They are now required to submit their requests in writing to their respective RADA parish manager.

"The extension officer for that area will then go and do preliminary assessment of the road to ascertain the level of agricultural production in the area," Hutchinson said.

"This information is then sent to the local RADA parish advisory board, which then determines which roads can be done, based on the funding allocated to the parish.

"This recommendation is then sent to the RADA national board for approval," Hutchinson added.

He gave reasons why the Government has decided on the new system.

"Mr Speaker, we have found where roads have been submitted and they are not farm roads, and this slows down the process of implementation," said Hutchinson.

He then cautioned his colleagues about challenging the veracity of his statement.

"I am saying to some of you, it is better if you say nothing than for me to go further with what I'm saying, and I hope some of us understand. I am saying, let some of us be mum," Hutchinson warned.

He said with the new system, there is more transparency and accountability for the project.

He also announced that the ministry is in the process of establishing a memorandum of understanding with the municipal corporations to oversee the road works that are done in the respective parishes.