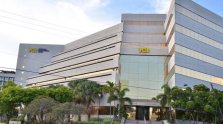 National Commercial Bank (NCB) has announced that it has reverted to E-link file format uploads for business customers to facilitate the smooth transfer of this month's salary payments.
In a public advisory on Friday, NCB again conveyed its regret for the backlog in salary payments in May as a result of recent attempts to upgrade its online banking system and mobile application but noted that it has made some changes to allow for easier processing of salary payments for June.

The upgrade, which started over the weekend of May 17, has created inconveniences in what would normally be a simple account update, to delays with processing salary which ultimately impacted customer bill payments.

So extensive was the issue that on May 30, NCB informed its customers that it would reimburse any late fee incurred because of the salary delay payments.

"We want to ensure that we improve this experience for your company and employees going forward. As such, we have made some changes that we believe will facilitate a much-improved process for your June payroll going forward, including allowing our customers to upload the E-link file format previously used by many customers," NCB said in its notice to business online banking customers.

The financial institution has requested that business customers visit www.jncb.com/salaryupload for updated file converters, correct bank and branch IDs, troubleshooting tips and other resources that it has created to make the salary upload process easier.

"Please be reminded that ACH transfers to other financial institutions submitted before 2:30 p.m, will be processed and sent to the recipient financial institution on the same business day," NCB said.

Files submitted after 2:30 pm, will be processed and sent to the recipient financial institution by the next business day. The individual's accounts will be credited once the receiving financial institution processes the file sent by NCB and credits the individual accounts, the bank said.

It added that Automated Clearing House (ACH)/e-link transfers to NCB accounts received 9 pm, will be credited within the same business day while real-time gross settlements (RTGS) transfers to other financial institutions received 2:30 pm, will be processed within three hours.

"We are here to assist you – so please do not hesitate to reach out to us at any time. Our team continues to work on restoring all affected services on our business online banking platform in the meantime. Please bear with us while we work to make the necessary adjustments to deliver an online banking experience worthy of your loyalty," the bank said.

NCB's decision to switch to E-link file format upload follows a notice by the bank on June 7, which stated that it has stabilised the challenges previously experienced with the upgrade. The institution added that it was working closely with other banks and employers to eliminate further payment delays.