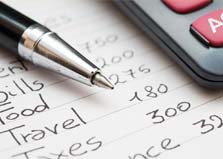 Money management is the process of budgeting, saving, investing, spending and expense tracking. Smart money management is about more than understanding the math. That part is simple. The most important aspect is taking control of your financial life, someone financial life or businesses.
You'll also want to protect your identity, avoid making errors while handling money and documents that concern money and work towards your financial objectives.

Budgeting
Budgeting is the process of creating the perfect plan to spend your monies. This spending plan is called a budget. Creating this spending plan allows you to determine in advance whether you will have enough money to do the things you need to do or would like to do. Budgeting is simply balancing your expenses with your income.
Saving
Saving money can help you to become financially secure and provide a safety in case of an emergency. Here are a few reasons why we save ; emergency cushion-this could be any number of things......A new roof for your house out of pocket medical expenses, or sudden loss of income.
It is critical to manage your money according to your current plan for the future..As you plan ahead you will encounter risks that could lead to disastrous consequences if you do not account for them. Avoiding risks though out your life is an advice, prioritize your needs and wants base an the plan for the future . Do not rationalize needs with wants, this will create an imbalance in your budget and a hole in your future plan …...
After you understand what your goals are and you have a clear perspective on how to make responsible decisions on things that you really want, you are ready to track you money. Remember the best person to manage you income and expenses is you.
Article By: Georgia Mckenzie