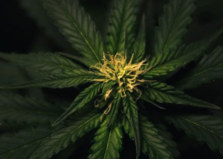 Minister of Agriculture Audley Shaw has disclosed that the Government of Jamaica will be stepping up pressure on US lawmakers on the issue of legitimising licensed medical cannabis growers and processors under correspondent banking rules.
"The Jamaican government is formally going to be lobbying the United States and join with the 21 governors who have themselves said they are lobbying for this. The American Government cannot continue to take this hardline position on corresponding banking," Shaw said.

Shaw argued that the US should allow the world to develop the plant-based medicine which he said should be an appropriate substitute for opioids "that are killing off people all over the world".

He said he is in full support of attorneys general from 33 states who have recently urged Congress to approve a proposal intended to fully open the doors of the US banking system to the legal marijuana industry.

Shaw was speaking to reporters in Montego Bay after participating in the ribbon-cutting to officially signal the opening the three-day 2019 Jamaica Manufacturers and Exporters' Association (JMEA) Jamaica International Exhibition (JIE) at the Montego Bay Convention Centre in St James last Thursday.