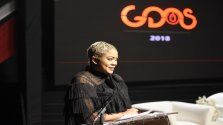 Digital marketing is much more than doing it for the "gram" and doing it for the likes. It's about strategically leveraging your online presence to increase sales, reach and influence.
Going digital is a MUST and if you plan to be competitive and relevant in this digital landscape then the Global Digital Marketing Summit is a must add to your social calendar. The second staging of the Global Digital Marketing Summit powered by Creative Brands and Concepts Limited in partnership with Texila Technologies based in India, will take place on May 8 and May 9, 2019 at the Spanish Court Hotel in Kingston, Jamaica. The digital savvy sponsors include Stewart's Automotive Group, the official transportation sponsor, Trend Media, iCreate Institute, Nationwide, AV Concepts Ltd, R Hotel, RJR Gleaner Communications Group and Sol Petroleum.

Digital enthusiasts, international and local experts will converge through a series of panel discussions, keynotes and workshops to share trending topics and tools needed to survive in this digital age.

Attendees will discover the hallmarks of video marketing on Twitter, cultivating an active and highly engaged digital community, as well as using artificial intelligence to effectively grow their network and net worth through automation.

For the cutting edge business leader who truly values the leveraging power of digital, there will be an exclusive mastermind session on May 8th to discuss strategic ways to level up their business. The Tech Playground will afford attendees the opportunity to interface and interact with digital trends, products and services to elevate their business from dinosaur to digital maven.

Fayval Williams, Minister of Energy, Science and Technology will deliver a keynote address that promises to explore the digital trajectory against the Jamaican landscape and how the future of business and social interaction will be.

The conference will close with an electrifying and eccentric after party titled Artificial Intelligence 2.0 Robotics Edition hosted by ZJ Sparks and featuring the futuristic dance artistry of Orville Hall from Dance Xpressionz.

Digital disruption has already started with a momentum that will not be slowing down soon and so it's time to go digital and buy your ticket today.

Follow Creative Brands and Concepts Limited journey on Instagram @creativebrandsltd and look out for updates about the summit.