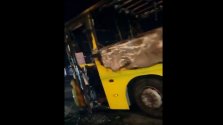 The Jamaica Urban Transit Company (JUTC) is looking at the possibility that arson may have been involved in Tuesday night's fire which
destroyed one of its buses
near Clock Tower Plaza on Hope Road in Half-Way Tree, St Andrew.
The JUTC has been joined in its probe by the Jamaica Constabulary Force.

No one was injured in the blaze but it was the second fire in four days to destroy a bus belonging to the state-owned company. Last Friday, a bus was destroyed in a blaze along the Bull Bay main road in St Andrew. No injuries were reported from that blaze either. Several buses have been destroyed by fire over the years.

In a statement issued Wednesday on the Half-Way Tree fire, JUTC managing director, Paul Abrahams, noted that "preliminary reports from the police and our investigators reveal that the engine compartment was not damaged or burnt. It is therefore clear that investigators must pursue a different angle."

When Loop News enquired as to whether the comment by Abrahams meant that arson was being looked at, a person close to the investigation said yes.

"That's the road we are going down," said the insider.

Apart from the absence of fire in the engine compartment, the JUTC is in possession of a video that clearly shows a fire inside the back section of the bus which has given rise to the theory that it may have been deliberately lit.

Meantime, Abrahams said the company was grateful that no one was injured in the latest bus fire.

For his part, JUTC Corporate Communications Manager, Cecil Thoms, is seeking to allay fears concerning the safety of JUTC buses. Thoms said the buses, as a matter of course, are routinely serviced and maintained.

"Our drivers are also trained such that they disembark passengers as a matter of priority in treating with these issues when they arise," Thoms added.