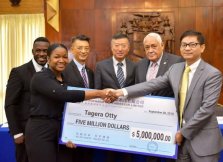 A Jamaican student was awarded a $5 million scholarship to study medicine in the People's Republic of China.
The student is the latest to benefit from a series of educational outreach projects being carried out by Sinopharm Pan-Caribbean Limited, a Chinese company operating in Jamaica since 2016.

Tagera Ottey received the scholarship as a result of an appeal made on her behalf made by Minister without portfolio, Mike Henry.

At the send-off ceremony held in Ottey's honour, Henry urged her to take the opportunity in the interest of Jamaica.

He also lauded the relationship between Jamaica and China, noting that China has largely invested Jamaica.

Ottey who will study medicine at Anhui Medical University expressed her gratitude for the scholarship saying that she was looking forward to living her dream of serving as a medical doctor.

"We as a company understand that investment in the education sector is an investment that will benefit generations to come and this is why we are proud to be providing full financial support to Ms. Ottey," said Peter Zheng, Managing Director of Sinopharm Pan-Caribbean Limited at the recent 'send off' ceremony.

Zheng later told guests that the scholarship awarded to Ottey is only one of the company's efforts to fulfill its corporate social responsibility.

In his address at the ceremony, Zheng also reaffirmed that the company will continue to advance the education of Jamaican nationals who are in need.

Last year the company also facilitated 23 medical professionals to do a three month intensive, intensive care unit (ICU) training sessions in China.