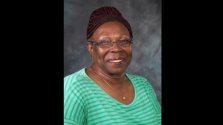 LOOP NEWS -https://www.loopjamaica.com/content/jamaican-woman-appointed-sheriff-nottingham-england
Merlita Bryan, a Jamaican-born woman, has been appointed the new Sheriff of Nottingham in England.
The appointment was made during a meeting of the city's full council this week, with Councillor Dave Trimble being named the Lord Mayor for 2021-2022, according to the Nottingham Post newspaper.
Bryan, who has been one of the city's councillors since 2007, was born in Jamaica, and moved to Nottingham at the age of 11, the newspaper reported.Continuing, the report stated that Bryan "is proud of the diversity of people she represents across Arboretum and Hyson Green" areas of the city.
In reacting to the news of Bryan's appointment, leader of the Nottingham City Council, Councillor David Mellen, said: "Merlita brings a wealth of experience, having served both positions previously, and I know how much enthusiasm and energy she will bring this year as sheriff."
Previously, the Jamaican served the city as Sheriff in 2012-2013, and Lord Mayor in 2013-2014, according to her LinkedIn profile.
Currently, Bryan sits on the city council's health scrutiny committee, and before that was a member of the overview and scrutiny committee.
For the past year, she has been executive assistant for schools and Nottingham customer care.
Nottingham is renowned for the legend of Robin Hood, the fictional character who stole from the rich to give to those living in poverty.
In 2020, the city had a population of approximately 330,000 people.