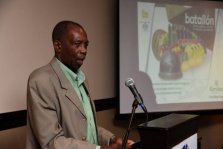 Minister without Portfolio in the Ministry of Industry,Commerce,Agriculture and Fisheries, Hon.J.C.Hutchinson,says Jamaica must "vigorously pursue" the development of its own organic agriculture sector.
He said the demand for organic produce continues to grow, with the global market estimated to value US$80 billion in 2015.
"There are several proven benefits of organic farming, not least of which is the elimination of the use of synthetic inputs, fertilisers and pesticides. With the increasing consumer demand for organic produce, there can be no doubt that this is a pathway to the future," he said.

The Minister made the call as he launched a range of organic fertiliser products at The Jamaica Pegasus hotel in New Kingston on Thursday (July 13).
Local company, Growers Choice Avery's Organic has partnered with the KIMITEC Group from Spain for the distribution of the products in Jamaica and the wider Caribbean.

KIMITEC manufactures organic fertilisers, which help to boost soil structure and development of the plant's root system, thereby improving crop quality and quantity.

Minister Hutchinson welcomed the introduction of the KIMITEC range of organic fertilisers in Jamaica.

He said the use of the products, coupled with the best farming practices, will go a far way in not only boosting farm productivity and profits, but also in improving the availability of safe and wholesome food to consumers.

He added it is his "fervent wish that the products will boost the production levels of farmers and, thereby, contribute to this Government's commitment to ensure an agricultural industry that brings growth and prosperity to Jamaica".

General Manager of Growers Choice Avery's Organic Company, Prince Avery, noted that the fertilisers will stimulate the soil and increase farm yields.

"(Produce) are going to have a longer shelf life. It is something that will be good for everyone overall. Going organic is the right way to go," he said.

He noted that the fertilisers are liquid-based, which will be ideal for local farmers, who are moving away from the granular products.
"You have a lot of farmers in Jamaica who are going liquid instead of using granular fertiliser, and they are able to cut back on cost when they go liquid," Mr. Avery said.
WRITTEN BY: LATONYA LINTON