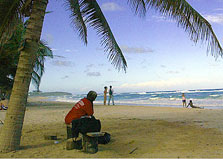 Alex Quesada for The New York Times
PHYSICISTS, M.I.T. undergrads and fans of "Star Trek" can often be found arguing about how to travel backward in time. Some believe wormholes are the answer, others pin their hopes on Einstein's "spooky action at a distance," and the recent discovery of a cosmic string may be inspiring a new generation of prospective time-tourists.
They are all wrong.
The easiest way of traveling into the past is to fly to Kingston, Jamaica, and drive north and east along jungly mountain roads to the town of Port Antonio, where — for better and for worse — it seems almost nothing has changed since the late 1960's.
It was here, in this lush land of reef-blocked beaches and palm-shrouded mountains, that movie stars and European royalty used to arrive by helicopter and by yacht to spend the winter months ensconced in their villas. Errol Flynn bought thousands of acres near Boston Bay, Queen Elizabeth once checked in to the Frenchman's Cove Resort, and Robin Moore reportedly wrote "The French Connection" at his house near the Blue Lagoon, the 200-foot-deep cerulean pool where a teenage Brooke Shields famously went skinny-dipping.
For almost 30 years, Port Antonio and the surrounding Portland Parish played host to famous names. But in 1988, soon after Tom Cruise juggled martini shakers for "Cocktail" at Dragon Bay, other, now infamous names began to arrive: first Gilbert, then Ivan and, most recently, Dennis in July 2005. All were hurricanes, and along with Portland's already copious rainfall, they wrecked the infrastructure that made a tourist economy possible.
Today Porty, as it is known, has so few visitors — some Italians and Germans, the occasional weekending Kingston hipsters and a handful of boldface regulars like Francesca von Habsburg — that when I told Deliverance, a barefoot Rastafarian I met on the street when I was there in November, that it was my only destination in Jamaica, he merely shook his dreadlocked head in apparent disbelief.
But there was no reason for his reaction. For Port Antonio — treated roughly by Mother Nature and Father Time — remains a lovely, almost genteel getaway, where high-end vacationing intermingles easily with regular old rural Jamaican life.
"If you want to rejuvenate and relax, this is the place. If you want to party, this is not the place. Go to Negril," said Amoy Lewis, a 29-year-old from Kingston whose boyfriend, Robert Anderson, owns Tiamo Spa Villas, once the hilltop home of Princess Nina Aga Khan.
Indeed, Portland seems designed for relaxing — there is little to do but sample its multitude of beaches. Each has its own atmosphere, its own crowd. Surfers hit Boston Bay, those craving seclusion pay the $2 entry fee to hide out at Frenchman's Cove for seclusion, and just about everyone loves Winnifred Beach for its jerk shacks and see-and-be-seen scene.
If those grow tiresome, there are easy, light hikes into the John Crow Mountains, which invariably end with a dip into the deep, cold, crystal-clear waters of Reach Falls, or any of the other falls all over Windsor Forest. Even the river rafting — an activity promoted by Errol Flynn — is low key, a simple, potentially romantic two-hour float down the Rio Grande.
And if Port Antonio's other diversions are, well, less diverting, they are at least poignant reminders of the region's prosperous, high-society history, a past built on the international banana trade. Porty's elegant Georgian courthouse contrasts sharply with the crumbling concrete edifices that make up much of downtown, and on the edge of town sits Folly, the ruins of a late 19th-century Classical Revival mansion built for a Tiffany heiress. Masons mixed the cement with saltwater, and there was no one to keep up the building after the heiress left for Miami in 1920, so it began to crumble.
Out on Titchfield Peninsula, Port Antonio's oldest neighborhood, stands the DeMontevin Lodge, built in 1882 and still stately as ever; its luxurious sitting rooms are comfortable places to spend an afternoon watching cable TV. But don't spend the night there, or you'll discover — surprisingly at rates as high as $80 a night — just how far Port Antonio has come from its glory days. The beds are uncomfortable unless you like plastic-wrapped mattresses and there's no breakfast.
The DeMontevin is only the most extreme case of the downfall of Port Antonio's hotels. Frenchman's Cove was once among the world's most expensive resorts, but its 18 stone villas are mostly empty, not only of guests but of basic accoutrements like phones, radios and TV's. At the Trident Hotel and Villas, a staple of glossy travel magazines in the 1980's, a sea-battered lawn testifies to its obsolescence. Even the "Cocktail" set at Dragon Bay is not open for business until Sandals, which bought the property in 2002, completes refurbishing it.