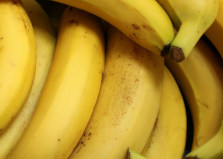 Source: The Gleaner-https://jamaica-gleaner.com/article/health/20191016/its-good-go-bananas-bananas
Good nutrition remains at the heart of a healthy lifestyle. No matter if you're into keto, intermittent fasting or un-dieting, understanding the benefits of specific foods to your lifestyle goal is key.
Here are a few reasons why JP St Mary's ripe and green bananas are at the epicentre of a healthy lifestyle.
1. High in Potassium
A potassium-rich diet helps to improve muscle movement, nerve and kidney function. Bananas are not only high in potassium, but also low in salt, a combination that helps to maintain a healthy heart and manage blood pressure.
2. Boost energy levels
Bananas are known to stimulate digestive juices to improve digestive health, and also contain Pectins that lower blood sugar levels. Bananas notably contain three natural sugars – sucrose, fructose and glucose – giving you a fat, and cholesterol-free source of energy.
3. Rich in vitamins C and B6
Bananas are one of the best fruit sources for B6 and a respectable source for vitamin C. It improves brain development in children and supports general brain health, helps with metabolism, and plays an important role in immune system health.
4. High fibre content
Bananas are high in fibres, both soluble and insoluble fibre. The soluble fibre reduces appetite and keeps you feeling fuller for longer, while insoluble fibre keeps your bowels working at their best. Fibre also aides in keeping your cholesterol and blood pressure in check, and helps to ease inflammation.
JP St Mary's bananas are an extremely healthy snack and they are very easy to add to your diet. Pair green bananas with steamed callaloo for a quick meal idea.
For ripe banana lovers, enjoy it solo before your workout or add it to a smoothie or yogurt.
From their farm in St Mary, JP St Mary's proudly offers ripe and green bananas fresh from the farm to you.
So be fresh and eat fresh with JP St Mary's products!