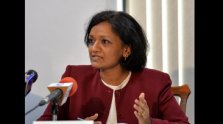 A fixed exchange rate cannot be accommodated under Jamaica's current economic programme, according to Dr Uma Ramakrishnan, the International Monetary Fund (IMF) Mission Chief for Jamaica.
Speaking via video conference on Tuesday from the IMF's Washington headquarters, Ramakrishnan described calls for the Jamaican dollar to be pegged to its US counterpart as "irresponsible".

"To talk about a fixed exchange rate in isolation is irresponsible and is not the right approach. If you are going to have a discussion on that, it has to be well informed, well thought out and we have to discuss all aspects of the regime," she said.

Ramakrishnan was providing feedback on Jamaica's performance under its Stand-By Arrangement with the IMF.

But in response to last week's call by the President of the Private Sector Organisation (PSOJ) Howard Mitchell, who expressed alarm and frustration that the Jamaican dollar continues to lose value against international currencies at the height of the winter tourist season - Ramakrishnan said a holistic discussion about the country's economic framework must be considered when assessing the exchange rate.




Jamaica's net international reserves would have to be much higher to defend certain shocks that can arise as a result of a fixed exchange rate, Ramakrishnan explained.

"There have to be other variables to absorb the shock, the debt still at 98 per cent at GDP. Is there fiscal space to be able to absorb shocks? Those are the questions one needs to consider," she said.

Ramakrishnan, therefore, urged the private sector to work with the Bank of Jamaica (BOJ) to build the right infrastructure to help manage the volatility of the exchange rate.

"If the private sector thinks that there are too much swings, then find a solution, because there are market-based solutions for that also. Those need to be put in place," she said.

Included among the solutions are a Forward Market and a Forex Trading Platform, Ramakrishnan said.

Forward market hedging seeks to protect exposure in the forward currency, interest rate and financial asset markets. The forward market is dominated by government, institutional and corporate entities. Meanwhile, a trading platform would facilitate transparency to arrive at the right foreign exchange pricing.

"You will see those swings reducing overtime but it also requires that the information is available for the BOJ to be able to handle those swings," she said.

The IMF in its fifth review of Jamaica's performance under its Stand-By Arrangement, recommended that the BOJ continues to reduce its footprint in the foreign exchange market; limit foreign exchange sales to disorderly market conditions and assess the need for further reductions in its reserve requirements.

The IMF chief mission also noted that BOJ's intervention in the foreign exchange market has reduced quite a lot since the start of the External Fund Facility in May 2013.

"Further monetary easing is needed to restore inflation to the midpoint of the four to six per cent target range," the IMF said in a press release.

Commenting on Jamaica's recent performance under the Stand-By Arrangement, the IMF said strong implementation of the reform programme continues.

Consequently, Jamaica's public debt is projected to fall below 100 per cent of GDP for the first time since FY2000/01 - to 98.7 per cent of GDP in FY18/19.

Unemployment is near all-time lows, business confidence is high, and the economy is estimated to have expanded by 1.8 per cent in 2018, buoyed by mining, construction and agriculture.

International reserves are estimated to be comfortable under a more flexible exchange rate, the IMF added.

All quantitative performance criteria at the end of December 2018 were met, and the structural benchmark to table in Parliament amendments to BOJ Act was completed in October 2018.