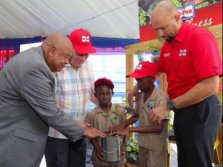 In keeping with the Government of Jamaica's efforts to develop and advance land-utilisation policy as a central feature of sustainable agricultural and economic growth, Hi-Pro is encouraging optimal space usage in boosting agricultural output as it promotes food security, health, and wellness.
To this end, Hi-Pro is encouraging a return to backyard farming across the island not only for food security, but also as a means of producing healthier and more economical food options for the family.

"This year, we are twinning the concept of backyard farming with the idea that it is also a great activity to promote healthy exercise and mental well-being. This will be one of the features of our pavilion at Denbigh," Colonel Jaimie Ogilvie, assistant vice-president, Hi-Pro Division, said at yesterday's Denbigh 2019 launch. "We will also guide patrons through various innovations, the matter of food security – which has become a worldwide standard – as well as various value-added elements for agricultural growth."

He noted that Hi-Pro, which is in its 20th year as a main sponsor of the agricultural and industrial show, sees value in the event as it provides a platform for farmers to meet other stakeholders and facilitates knowledge exchange.

A TIMELY PARTNERSHIP In so doing, they are able to improve their productivity, thereby contributing significantly to bring about sustainability and profitability in the agricultural sector and overall economic growth.

"We are also very pleased that the Tourism Enhancement Fund and Tourism Linkages Network have come on board as sponsors. The partnership is timely as the Government seeks to encourage increased consumption of quality and competitively sourced local produce and better management of our resources.

"With this in mind, the Jamaica Broilers Group, through its Hi-Pro and Best Dressed Chicken divisions, has played a central role in keeping pace with the supply needs of local consumers and visitors to the island and can declare that today, Jamaica is 100 per cent self-sufficient in meeting the demand for poultry meat and eggs," Ogilvie said.

Meanwhile, Dayne Patterson, business development manager, Hi-Pro Division, noted that it has been a tough year for agriculture in Jamaica.

"The volatility of the dollar [has been] impacting production costs for both livestock and agronomy farmers, but where challenges arise, the farming landscape evolves. We at Hi-Pro, Jamaica Broilers, and the wider agricultural community have embraced the challenges and have worked to create industrywide solutions in support of our farmers," Patterson said.