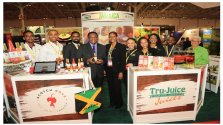 Seven Jamaican brands are currently displaying the best of the island's food at the SIAL Canada trade exhibition being held in Toronto, Canada.
The delegation aims to promote Jamaican food for export and will be making valuable connections in the market as they seek to raise their international profiles at the exhibition set to end on Thursday.

Carita Jamaica, Scotch Boyz, Linga Ya Farms, Caribbean Dreams, Tru Juice, Monymusk Plantation Rums and Home Choice are representing Jamaica at the event, which had over 15,000 buyers from 60 countries in attendance in 2018.

The local brands are seeking to increase their presence in the market, as Canada's demand for ethnic and organic food continues to increase. There are more than 20,000 grocery stores in Canada and suppliers hope to gain prominence on a few of the shelves.

JAMPRO's President, Diane Edwards, explained that Canada has always been part of JAMPRO's export promotion focus, however, with projected and current trends, the agency has boosted its activity in the market.

"Based on the continued diversification of the Canadian population, and our strong Diaspora community in the country, we believe that this is the perfect opportunity to have a more aggressive push in that market for Jamaican products. Ethnic food, organic products, and beverages are really doing well in Canada, and many of our Jamaican brands can capitalise on these developments. Our North American Regional Office (NARO) is focused on creating the environment for Jamaican brands to make a more significant impact in Canada, and take advantage of these food trends."

Edwards noted that 80 per cent of attendees at SIAL 2018 were decision-makers in purchasing goods for retail and distribution.

She said that valuable international exposure in new markets for the agriculture sector was a major priority for the 2019-2020 financial year, and events like SIAL provided a much-needed platform for the sector.

"Agriculture and food manufacturing are pillars of the Jamaican economy, but we still have not realised its full potential. By working closely with our partners in agriculture, including the Ministry of Industry, Commerce, Agriculture and Fisheries to create sector building strategies, and securing impactful international exposure for our local manufacturers, we expect to see greater success for our food growers and manufacturers in this financial year," she said.

The Jamaica Promotions Corporation (JAMPRO)'s mission is to drive economic development through growth in investment and export. JAMPRO is an Agency of the Ministry of Industry, Commerce, Agriculture and Fisheries.