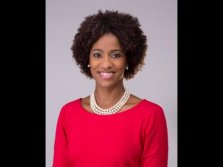 Imani Duncan-Price has put herself forward as a possible candidate to take up the mantle People's National Party (PNP) standard-bearer in Central Kingston when Ronald Thwaites exits even as political foes lurk on the fringes with their eyes also set on the prized constituency.
Duncan-Price – in a letter to Thwaites and the wider PNP membership, a copy of which The Gleaner has obtained – said she will be offering herself to run on the party's ticket to become member of parliament.

"Following my discussions with MP Comrade Ronnie Thwaites, I would now like to share with you that if and when a vacancy exists for the position of PNP candidate for Central Kingston, I intend to offer myself," Duncan-Price said in his letter.

She said her political and business credentials will enable her to offer leadership in the constituency.

"My experience at all levels of party work, together with my service in the Senate, along with my training in finance, business development, advocacy for change as well as community development, will enable me to offer the kind of leadership that will take Central Kingston further along the path of progress and development," she stated.

Duncan-Price currently serves as chief of staff to Opposition Leader Dr Peter Phillips.

Gleaner sources have indicated that the seat could be up for grabs next time Jamaicans are called to the polls as Thwaites, who has held the seast since for the past 23 years, will not be seeking re-election. The next general election is due no later than 2021.

But Duncan-Price is likely to face challenge from Raymond Pryce, who has been in the hunt for a seat since fleeing North East St Elizabeth after facing strong political resistance.

He had previously sought to settle in North West St Catherine and was even introduced as the caretaker for the PNP in West Central St James by Dr Peter Phillips, PNP president.

Gleaner sources also said his presence in Central Kingston has sharply increased over the past few weeks.

Still Duncan-Price seems to have one foot in as, according to her, Thwaites has accepted her offer to work with the constituency organisation to re-energise the PNP base in the constituency.

"I intend to meet with all PNP group members and PNP workers to learn from them and share with them so that together we can develop a vision and programme for the next phase of development and growth for Central Kingston," she outlined.

Duncan-Price lost her bid to win the East Rural St Andrew seat in 2016, with the Jamaica Labour Party's Juliet Holness securing securing 669 more votes.

The PNP's Central Kingston machinery has been rocked by controversy in recent times when reports surfaced that it had not held a constituency meeting in years as required by the PNP's constitution.

Some Comrades then complained that they had not been given the opportunity to choose a chairman.

Among those who have expressed dissatisfaction with the state of affairs in the constituency was Paul Buchanan, who indicated to The Gleaner last year that he wanted to lead the PNP's team in Central Kingston.
Source:Jamaica Gleaner