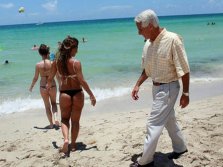 The Caribbean Tourism industry is being urged to not rest on its laurels even as the sector shows robust growth.
Dominic Fedee, Chairman of the Caribbean Tourism Organisation (CTO), said with more and more destinations coming on stream, the Caribbean has to get its act together and re-invent and re-imagine.

Fedee was speaking to a group of Caribbean travel writers at a press conference on Thursday at the CTO's annual Caribbean Week in New York.

Following the super hurricanes of 2017 which saw the entire sector take a hit, growth over the last year has been strong with the Caribbean recording a 12 percent increase in tourist arrivals in the first quarter of 2019.

Fedee revealed that between January and March this year, there were 9.1 million international tourist trips to the region, up by 970,000 over the corresponding period last year.

The United States was the main contributor to this increase, registering a 24 percent increase in arrivals from that market. The CTO said the US was the strongest performing market in the first quarter with 4.5 million tourist visits, while Canada's 1.5 million tourist visits to the Caribbean represented a four percent increase.

Arrivals were also boosted by the cruise sector with a record 10.7 million cruise passenger visits, an increase of 9.9 percent when compared to the same period in 2018.

The CTO noted that the European market was less encouraging with arrivals up marginally by 0.6 percent.

Even though the CTO is predicting an eight to nine percent increase in tourist arrivals and a 5.5 to 6.5 percent growth in cruise arrivals for the year, Fedee said more needs to be done to market the region.

Fedee said it was agreed at a meeting of Tourism Ministers that the Caribbean needs to get a sustainable marketing initiative on the road and more uniformity in the development of the Caribbean.

He said with customer attitudes towards travel changing, the Caribbean has to ensure its product is up to par and they believe doing so as a region is better than doing it as individual islands.

He also said that a big point of discussion was the need for an improvement in data collection to make informed decisions.