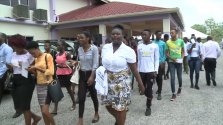 The HEART Trust/NTA has formed a partnership with the Human Resource Management Association of Jamaica (HRMAJ) to promote the acceptance of the National Vocational Qualification of Jamaica (NVQ-J) and the Caribbean Vocational Qualification certificates (CVQ) in the workplace.
The agencies signed an extension of a memorandum of office at the HEART Trust/NTA's corporate office on Friday.

This is the second MOU between the entities since 2015. Under the agreement, HEART and HRMAJ will share information and technical expertise to advance the development of Jamaica's human capital.

"This MOU signing comes at a pivotal moment in our history. It is a time when our workers have to be able to adapt well to changing market conditions and to exercise greater flexibility to meet not only the requirements of their jobs but to be compliant with legislation and global market trends.", said Dr Janet Dyer, Managing Director of HEART Trust/NTA.

The NVQ-J qualification falls under the National Qualifications Framework which helps a country to provide trained and certified workers at an international standard.

"The HEART Trust/NTA recognizes the change in labour market conditions and seeks to equip our people to handle these changes to meet demands and maximize Jamaica's full growth potential", said Dr Dyer.

"It is important that the NVQ-J be positioned as a valuable certificate of competence. It proves that a certified individual has garnered the skills which directly fit their scope of work in the industry".

Karl Williams, President of HRMAJ endorsed the initiative and cited the importance of HEART graduates to Jamaica's development: "We at HRMAJ really respect the work that HEART is doing. There is no way that Vision 2030 can be realized without the development of the human capital of this country. Certification is extremely important for us to achieve the economic targets of this country and even address the grave matter of crime".

Williams said Human Resource managers will be leading the charge at accepting skilled workers at all levels and called for more employers to come on board.

"If we don't lead with stakeholders in education and employers to develop the kind of competences and talents that are required to transform the workforce, then we are going to have an unbalanced labour force. We are committed to ensuring that HEART certification becomes an acceptable part of the hiring process", said Mr Williams.

The HEART Trust/NTA is also looking to increase the current 5-level tier of the NQF certificate programme to 8-levels, meaning that certification now starts from Lower Secondary (Level 1) to Doctoral Degree (Level 8).