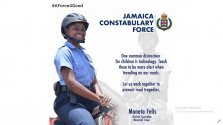 Just days before the start of the new school year, District Constable Moneta Felis, the only female district constable at the Jamaica Constabulary Force (JCF) Mounted Troop Division, has a message for the island's children.
Working on the streets across the island, DC Felis says she is concerned about children's use of technology (for example, cell phones and gadgets) when traveling on the roadways.

She rides her horse 'Scoop Jordane' proudly while promoting safer communities, and wants the children especially, "to be all safe as we approach the new school year".

Zeroing on the matter of public safety, DC Felis urged parents to be more focused on their children's physical welfare.

"One common distraction for children is technology. Teach them to be more alert when traveling on our roads," was among her message that was posted in the social media site of the JCF.

The policewoman said too often accidents that could be avoided take place on the roads because of the failure of motorists or pedestrians to be alert.

"Let us work together to prevent road tragedies," DC Felis further urged in her message.

In addition to patrols, JCF mounted troop members also use horses as useful resources in crowd control.

The animals are also used on ceremonial duties, such as the governor general's escort at the state opening of Parliament, and for funeral escorts for deceased dignitaries.

The Mounted Troop Division also participates in exhibitions and displays in various communities and schools across the country.