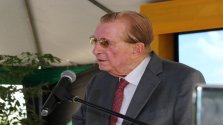 The African Caribbean Institute of Jamaica, a division of the Institute of Jamaica (IOJ), will on Monday, June 10, be hosting a "Revival Tribute" in honour of the late former Prime Minister Edward Seaga at Orange Park, downtown, Kingston.
The function is scheduled to get underway at 1:00pm. According to the IOJ, the hour of celebration will be centred on revivalism. It said the Mount Salem Revival Mission Church located in Denham Town in West Kingston will be performing some of the rituals of their religion.

Additionally, there will also be a revival table set up as a show-piece for persons who are curious and want to learn more about revivalist culture and faith, the IOJ said in a statement on Friday.

Mr. Seaga, who was an anthropologist, outside of his role as a Jamaican politician, did extensive research on revivalism publishing several articles on his work.

The African Caribbean Institute of Jamaica has the responsibility of preserving the country's African and Caribbean cultures.

"It (the institute) wants to focus on this contribution from Mr. Seaga with the goal of continuing to transmit knowledge of this part of our heritage, as well as to honour his legacy," the IOJ said.

It noted that Seaga's work is also featured in volume 32 of the IOJ's Jamaica Journal in which he writes about revivalism. Up until his death, Seaga, the country's fifth prime minister, also served as a Fellow of the IOJ. He died in a Miami, Florida hospital on May 28 on his 89th birthday. He had been ailing for some time.