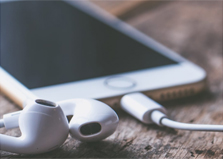 Source: Happiful-https://happiful.com/5-wellbeing-benefits-of-listening-to-audiobooks/
We all know that reading can offer a wonderful escape into our imaginations, inviting us into new worlds, scenarios and experiences – and it's proven to be good for our wellbeing. But, what about the people whose mental health might make reading difficult? Audiobooks sound like an intriguing idea...
Just six minutes of reading can be enough to reduce stress levels by more than two thirds, according to research from the University of Sussex. But when your mind is keeping you from concentrating, what else can you do?
Audiobooks can be a great way to still get the enjoyment and benefits of reading – try it with your local library, on Audible, Spotify, or Project Gutenberg. Members of the charity Listening Books use audiobooks to help their mental health and day-to-day life. While everyone's journey is different, here are just five reasons why popping in those headphones could improve your wellbeing, too. Read on...
1. Keeping panic attacks under control
hand golding pair of earphones
When a panic attack starts, it can be difficult to regain control. But knowing your triggers, and preparing with a calm mind, can help keep the attacks at bay.
Listening Books member Aimee's panic attacks were often triggered on her commute. Having to get off crowded trains and buses meant that she was often late for her job, and unprepared for her day.
This all changed when Aimee began listening to audiobooks on her commute, which distracted her from the anxiety. "I close my eyes and listen, and I'm transported to wherever the book is," she explains. "I think this kind of therapy-through-literature should be available to all. Audiobooks have made my commute something to look forward to."
2. Aiding sleep
When your mind is whirring and won't shut off, it can be hard to sleep. But audiobooks can give your brain the relaxation it needs to rest properly. One member details how her daughter uses audiobooks to get the sleep she so desperately needs.
"We were recommended audiobooks by someone in a dyslexic support group," she says. "At the time, Sophie was refusing to go to school and was very anxious. From that moment she has listened to books every day! It has become her oasis of calm. She can switch off her tired brain and relax and listen."
3. Growing confidence
For people who find that their condition makes concentrating on books difficult, reading can feel impossible. For lovers of the written word, this can mean that they miss out on literature altogether.
A Listening Books member said that before she found audiobooks she felt stupid, as her mental illness made it difficult – and often impossible – to read printed books. But with audiobooks, her confidence has been transformed. "I like that I am not excluded from this world of literature. It excites me to find a book that really interests me."
4. Distracting from negative thoughts
Any time your internal monologue becomes too much, immersing yourself in someone else's story can give your exhausted mind the break it needs to feel able to face daily challenges again.
Heather says: "By listening to a book, I can concentrate on the story instead of the pain. If I'm having a bad time with my bipolar, a book takes my mind off it."
5. Raising serotonin levels
iphone on table with earphones plugged in
Our brain produces a chemical called serotonin, which is linked to happiness and wellbeing. People with mental illnesses such as depression tend to have lower levels of serotonin, and so are often prescribed medication to increase this. But doctors can also prescribe pleasurable activities, such as exercise, as a way of increasing this.
The pleasure we get from laughing at a funny story, or becoming engrossed in a romance, can make us feel happier, which can help us overcome negative feelings linked to anxiety and depression.
Listening Books member Andre says: "I'd been on antidepressants for almost 10 years, and listening to books has helped me improve my health, memory and concentration. It's a traditional version of mindfulness."