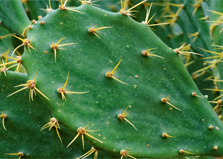 Source: LoopNews-https://jamaica.loopnews.com/content/botanical-roots-why-you-should-eat-tuna-plant
The tuna plant grows wild in Jamaica and is often viewed as an ornamental plant for lawns; but its range of health benefits will absolutely amaze you.
There are limited human studies on the nopal cactus and its ability to treat or prevent diseases. However, the results of a 2019 review of the tuna plant - which is a member of the nopal's plant family and is scientifically known as Opuntia dillenii - suggested that the plant has many antioxidant and anti-inflammatory properties.
The tuna plant has been used to soothe pain, boost immune activity and protect the liver.
Both parts of the nopal plant, the leaves and the fruit, are used for treating and preventing a range of conditions and symptoms including glaucoma, wounds, fatigue, liver conditions and ulcers.
In Mexico, cactus plants also play a role in traditional medicine for the treatment of diabetes.
The authors of a small study tested the effects of nopal on 14 people with Type 2 diabetes. The two groups of participants ate a high carbohydrate breakfast. One group consumed nopal with their breakfast, while the other did not. The nopal group had significantly lower blood sugar and insulin levels after the meal when researchers compared them with the participants who did not have nopal.
Don't be intimidated by its looks, the tuna plant can be easily added to your diet - once the leaves are peeled and the prickles removed, it can be used in fresh salads, grilled, pickled and sautéed.
Ingesting the plant is also good for constipation and bloating.
What's more, the extract from the leaves are used in a variety of shampoos and cosmetic products, but you can bypass that by slicing the leaves and using the raw juices to add bounce and sheen to your hair.
Stick to your botanical roots and use up the tuna for better health.